home
Rooms & Suites
View All Rooms
Experience breathtaking Coal Harbour and North Shore mountain views in our Harbour Rooms, or the stunning Vancouver skyline from our City Rooms.
Hotel Amenities
View Our Amenities
Our hotel offers countless amenities to make your home away from home as comfortable as possible. Free Wi-Fi, bikes and more!
Downtown Location
View Our Location
Just minutes from Vancouver Convention Centre and steps to the seawall. A Downtown Vancouver waterfront location- right where you want to be.
Our Signature Amenities
We offer a number of amenities to make your home away from home as
comfortable, convenient and memorable as possible.
Free WiFi
p2b Bistro + Bar
Gym + Fitness
Best Rate Guarantee
"Great Stay"
It is a great experience overall. We have a room with partial ocean view which is a highlight of our stay. Staff has nice attitude. It is very central with walking distance to Stanley park through a walking path along the water. There is a grocery store across the street. Strongly recommend to anyone that wants convenience and good value in downtown Vancouver.
Boutique Downtown Vancouver Hotel
Learn More
Located just steps from the best of downtown Vancouver with stunning views and first-class cuisine, Pinnacle Hotel Harbourfront has it all. Experience the Pinnacle difference of making every guest experience special with personalized service, thoughtful extras and unwavering attention to detail.
Offering complimentary high-speed Wi-Fi, and onsite fitness training, the Pinnacle Hotel Harbourfront experience is a refreshing alternative to the typical hotel routine. Explore this amazing city with us:
book your Pinnacle experience today
.
A Memorable Downtown Vancouver Hotel Experience
Treat yourself to a special kind of downtown Vancouver Hotel experience, one that puts you just steps from the action and offers great value for an authentic experience of this amazing city. Whether you're visiting Vancouver for a big vacation or spending just one night in the city for a concert or special event, Pinnacle's exclusive packages and promotions help take the stress and expense out of your travel plans. We look forward to making your Vancouver experience unforgettable.
Onsite Dining
View Menu
Emphasizing fresh, local and sustainable ingredients, our P2B Restaurant & Bar delivers simply prepared, West Coast-inspired dishes.
Meetings & Events
Learn More
With up to 35,000 square feet of event space, our hotel has the perfect venue for your next large conference, high-powered business meeting, or corporate function.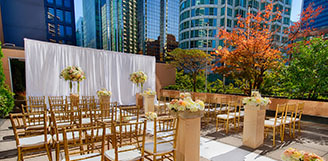 Weddings
Learn More
Against a breathtaking backdrop of the Vancouver Harbour and North Shore Mountains, the Pinnacle Hotel Harbourfront is one of the city's most remarkable places to bring your wedding dreams to life.